These are Crocs. And a lot of people think they're really ugly.
People who love to hate Crocs had cause to celebrate in 2008 when investors were writing the company off as a passing fad.
Crocs lost over $185 million that year and cut about 2,000 jobs.
The stock plunged to just over $1 a share from a high of about $69 a year earlier.
But over the next decade, Crocs would go on to sell over 700 million pairs of shoes worldwide.
Recently, the clogs have been strutting down runways at luxury fashion shows.
Celebrities like Justin Bieber, Ariana Grande and Post Malone are wearing the shoes.
It's a top brand among Gen Z, and limited edition Crocs are selling for hundreds of dollars on the resale market.
Crocs have become a collector's item
Timeline of CROCS – Comeback from Dead
Here's how Crocs came back from the dead and turned a widely mocked shoe into a cultural icon.
Crocs start at about $35 and were originally designed as a comfortable shoe for boating.
Three friends – Scott Seamans, George Boedecker and Lyndon Hanson – came up with the idea while sailing in the Caribbean.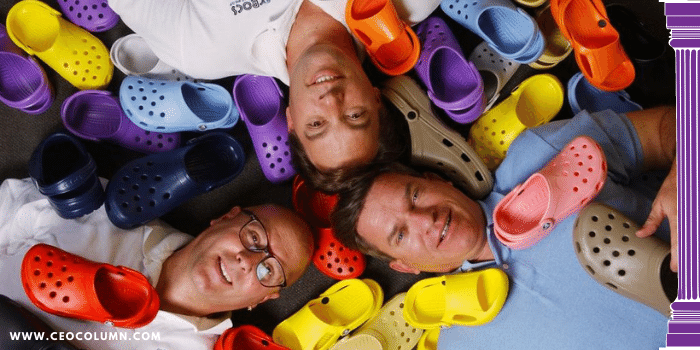 Seamans was wearing a slip and odor resistant clog made by a Canadian company called Foam Creations.
Boedecker and Hanson thought they were ugly but were sold on their functionality.
They licensed FOAM CREATIONS' foam resin technology, called it CROSLITE and developed the CROC.
Crocs later acquired FOAM CREATIONS in 2004.
The shoes debuted at the 2002 Fort Lauderdale International Boat Show and were an immediate hit.
Annual revenue jumped from $24,000 in 2002 to over $108 million in 2005.
In 2006, Crocs raised over $200 million in its IPO, the biggest in shoe history.
2007 – Most Profitable year
In 2007, Crocs had its most profitable year in business, raking in over $168 million.
The stock hit its all-time high of about $69 a share.
Back then, the brand was incredibly hot.
It was growing strong, strong double digits.
In some quarters it was growing triple digits.
So it was one of the hottest growth stocks.
People, people bought into it.
It's no wonder parents, kids, hospital and restaurant workers sought them out for their comfort and functionality.
But their distinct style evoked strong feelings.
The public, it seemed, either loved or hated them.
Because of its vocal community of haters, Crocs have unwittingly become a statement shoe.
What the clogs have come to represent has played a large role in the company's success.
2008 – Recession
By 2008, many had condemned Crocs as a passing fad.
The company had to somehow convince a wider audience that its shoes weren't just about function, but about fashion and that it's fashionable to put comfort first.
But the company took some wrong turns along the way.
And by 2008, the bear outlook on Crocs was gaining steam.
Back in 2007 and 2008, when the brand had hit its peak, it really was coming off the rails very quickly.
It was something that we heard very commonly from investors – that Crocs was a fad and it was a trend.
To keep up with demand, the company grew in an unruly fashion.
It expanded into too many product lines, distribution channels and markets worldwide.
Then came the 2008 recession.
The company had expanded into over 5,000 SKUs and was saddled with excess inventory.
Crocs of all kinds weren't selling.
Crocs lost over $185 million in 2008.
The stock sank to just over $1 a share.
They grew very fast, but it was not sustainable.
They had over two years of inventory that they had to work through.
Experts say Crocs fell into a common pitfall for young companies – trying to be all things to all people.
Over the next several years, Crocs worked on narrowing its focus.
The company closed underperforming stores, cleaned up its distribution network, reduced overhead and cut its product offerings by about 80 percent.
And it doubled down on what the company is known for. It's CLOG.
What Crocs is good at is making a super comfortable clog.
After Recession to 2019 – Focused on only CLOG
In 2019, its clogs accounted for more than 60 percent of sales.
Those shoes became extremely relevant as consumer preferences were changing.
Experts say Crocs helped usher in the athleisure and ugly fashion movements that took off around 2017.
Athleisure refers to comfortable clothes worn for exercising and general use.
Ugly fashion is all about defying conventional standards of beauty.
Crocs doubled down on innovating around the clog, making it a trendy statement shoe that stood for self-expression and individuality.
COLLABORATION with CELEBRITIES & BRANDS
Crocs took a cue from hypebeast culture and began collaborating with celebrities, designers and other brands to drop limited edition clogs.
Since 2017, Crocs has released dozens of limited edition clogs in collaboration with the likes of Balenciaga, Christopher Kane, Kiss, KFC and Peeps.
Some of those collaborations have sold out in minutes.
Crocs designed by Post Malone are now reselling on StockX for up to $1,000.
Crocs achieved record revenues of over $1.23 billion in 2019.
The company sold over 67 million shoes worldwide.
In December 2019, the stock was up nearly 500 percent since the beginning of 2017.
Revenue growth accelerated as collaborations helped to captivate an entirely new generation of customers, many of whom hadn't worn Crocs since they were little kids. Gen Z.
In Spring 2020, Crocs has risen to the 12th most popular footwear brand among teens. Crocs attributes some of that success to its removable charms business Jibbitz, which allows consumers to personalize their clogs.
In 2020, Crocs is preparing to weather an economic downturn caused by the COVID-19 pandemic.
First quarter 2020 revenues were down five percent from the same period in 2019, in light of store closures and reduced sales due to the pandemic.
But experts say Crocs is in a much stronger position to weather a recession in 2020 than it was in 2008.
The company has over $100 million in cash and a core product that's much more than just a shoe.